For one year, Blights Out occupied a billboard on the corner of Orleans Ave and Galvez St. with an exposé on housing discrimination in New Orleans.
Blights Out (is not running) for Mayor!
But you should.
From September 2017 through August 2018, Blights Out occupied a billboard on the corner of Galvez St. and Orleans Ave. in New Orleans, LA, with a creative campaign called Blights Out for Mayor–a series of 12 billboard messages that call on the public and our representatives to radically expand our imaginations around solutions to New Orleans' housing crisis. It was a sustained call to action to #PutHousingFirst. Because politics and policy neither begin nor end at the ballot.
Blights Out for Mayor called for and suggested entry points into a post-Katrina Truth and Reconciliation process. It sought the redress of policies and values imposed in the wake of disaster that reinforce ecological apartheid in our housing landscape and that threaten to turn our city into a gentrified fortress that shelters the wealthiest from the rising-up of seas and people.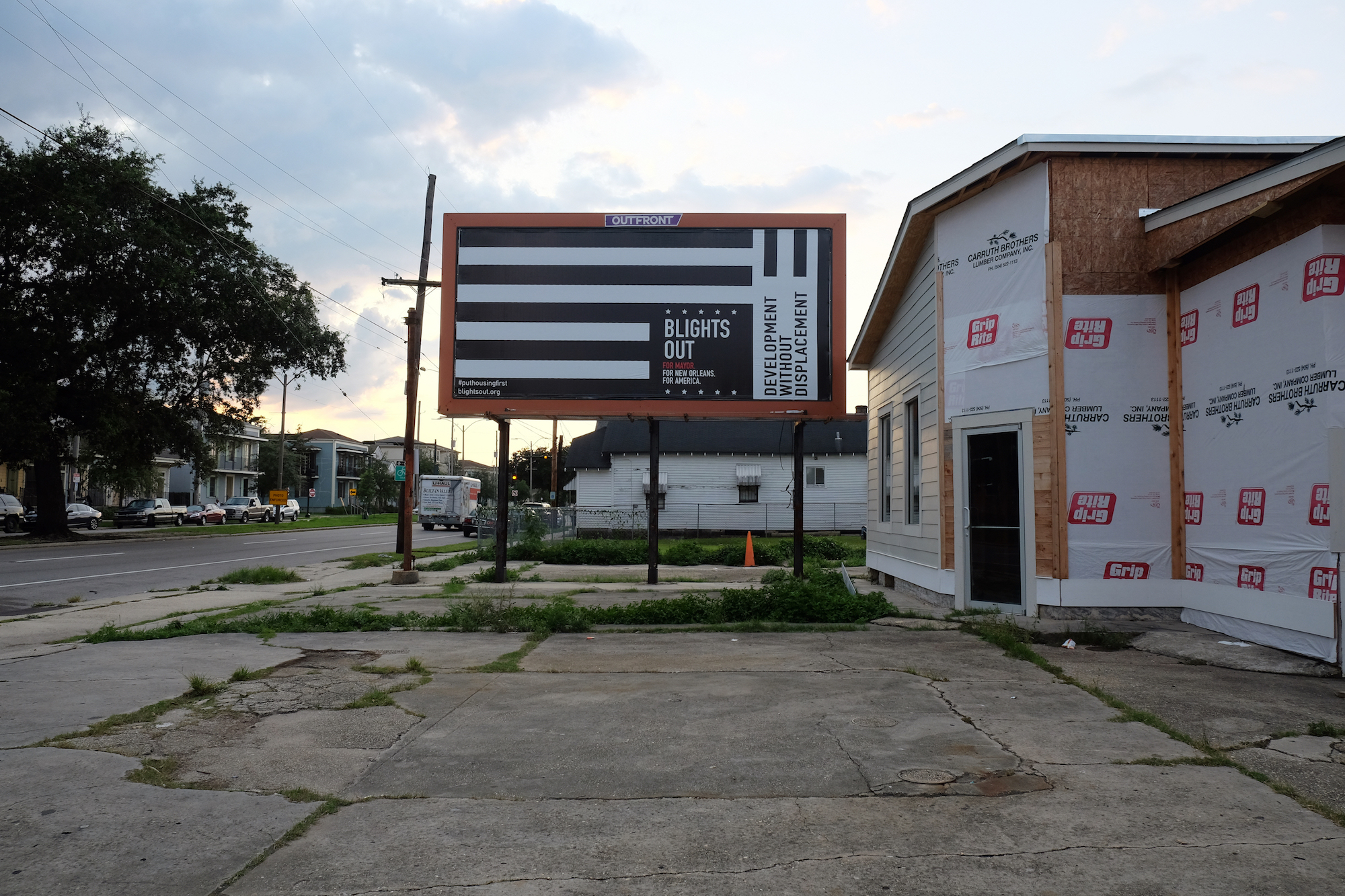 Thank you to everyone who supported our Kickstarter Campaign to bring this project to life!
Cindy Cheng, Lisa Sharp, Elissar Khalek, Fred Wilson, Marta Rodriguez Maleck, Colin Fredericks, Carlie Boos, David Julius Roston, S Rodriguez, Garrett Jacobs, Glenn Ligon, Manon Slome, Julia Cole, Nathan Halverson, Janine Antoni, Camilo Alvarez, Doug Sharp, Amanda Hardesty, Arjen Breedijk, Mauricio Mendez, Gilad Meron, Esteban Araya, Stephanie Browne, Chelle Destefano, Ella Wynn, Maureen Connor, Katie Sonnenborn, Chloe Bass, Caron Atlas, Amanda Cassingham-Bardwell, Grant Seifred, Lilith Winkler-Schor, Christopher J Clayman, Sarah Smith, Brooks Woodhill, Beth Silveman, Liana Elliott, Molly Gross, Kenneth Pietrobono, Cynthia Campo, Cameron Shaw, Thomas Morgan, Jordan Flaherty, Lily Erickson, Yvette Richardson, Allison Young, Antony Hay, William Ball, Scott D Schaffer, Emily Eckland, Abigail Satinsky, Henry Ehrenberg, Eileen Kirschner, Marla Chirdon, Matthew Vieyra, Perla de Leon, Madeleine Wieand, Alexander John Glustrom, Cat Forrester, Robert Wiegmann, Yoav Givati, Cindy Womack, Michelle A Coffey, Heather Bentley, Ruth Owens, Catherine Nelson, Lauren Trout, Kelsey Oesmann, Will Gowen, Cezanne Charles, Elizabeth Lower-Basch, Miko McGinty, Jenna Knoblach, Kai Bosworth, Amy Hussain, Roy Beeson, Mark Anderson, Chris Longfellow, Sylvia Flores, Allison Joe, Patton Hindle, Alex Ross, Deborah Fisher, Cassie Thornton, Theodore Hilton, Heidi Schmalbach, Diane Horvath-Cosper, Madelaine Hock, Katayun Salehi, Consigny Adèle, Kehaulani Kauanui, Jane Patton, Big Class, Miriam Belblidia, Katie Mathews, Yxta Murray, Daniel Sharp, Anna Mecugni, Rosemary Reyes, Hjalte Lagercrantz, Susan Bloyer, S. Weintraub, Studio Rossi Brody, Jeff Williams, Shana griffin, Paul Farber, Anamarie Crone, Hanneline Gjerdrum Rogeberg, Jennifer Nicklyn, Yenting Lin, Marcella Faustini, Heidi Schor, Elizabeth Solms, Stephanie Cytron, Carla Araujo, Staple Goods, Arthur Polendo, Sarah Workneh, Robert Hodge, Beka Economopoulos, Landscape Follies, Willa Conway, Wayne Amedee, Abigail Sebton, Conrnelius Swart, Momma Tried, Robert Yaman, Sascha Wiebenson, Rachid, Hannah Pepper-Cunningham, TJ Dellinger, Hannah Chalew, Patricia Copeland, Bill Ross, Julia Evans, Tasha Turner, Kilian McMahon, Bob Weisz, Carsie Blanton, Pau Gyring, Kirk Love, Eloise Reid, Jessica Massart, Lee Deigaard, Betsy Krieger, Sayde Finkel, Sunny Dawn Summers, Breonne DeDecker, Oliver Driver, Eric Damon Walters, Lynn Meissner, Allison Porter, Chris McCole, Francis Cape, Walter Mason, Steve Hirst, Todd Sanford, Rebecca Snedecker, Ryan MacCarrigan, Mark Dato, Harriet Sigal, Ashley Chang, Amanda Brinkman, Raquel De Anda, Michael Armstrong-Roche, Emmett Kim, Harry Burke, Rob Faucette, Julianne Swartz, Bill Quigley, Thomas Green, Fari Nzinga, Kevin McKenna, AnnieLaurie Erickson, Mihail Lari, Leon A Waters, Lisa Tak, Sara Nadal, Linda Earle, Patrick Killoran, Jeanne Woods, David Meinhart, Brooks Frederick, & Patricia Ross!